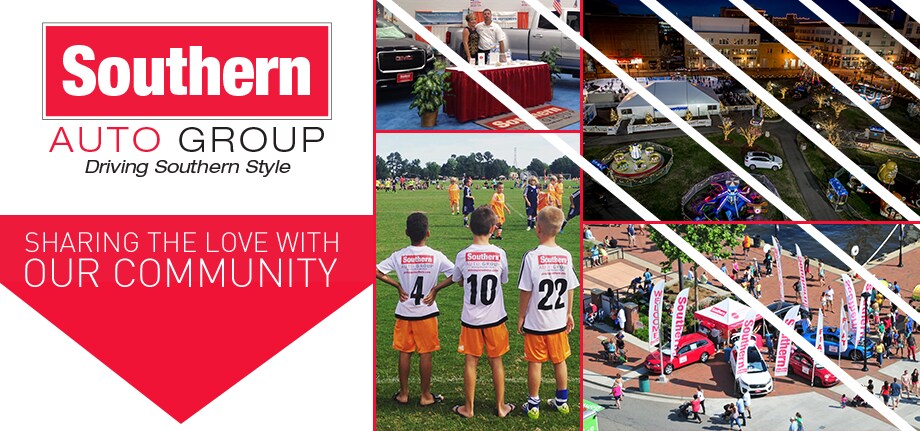 Southern Auto Group in Virginia, Giving Back To The Community That Supports Us
Southern Auto Group has been locally owned and operated for more than 30 years, and we are proud to be contributing members of our community.
We feel that giving back to the community is just as important as providing you with the Southern hospitality you deserve.
That's why we take pride in offering our support to organizations like St. Jude Children's Research Hospital, Toys For Tots, The Virginia Beach Education Foundation, The Muscular Dystrophy Association, and many more.
We Have An Award Winning Commitment To Our Community
Our entire Southern Auto Group family is proud to participate in giving back to the community, and our employees' contributions to various charities have totaled over $81,000!
In fact, thanks to their generous contributions, The United Way has named Southern Auto Group as a winner of the Campaign Gold Trailblazer Award! We are so proud of what we have accomplished.
We Support Our Military Families
We proudly honor and support our local military families here at Southern Auto Group, offering military discounts and more to the brave individuals who serve our country, as well as their families.
Plus, with programs like our Operation Homefront's Star Spangled Baby Shower, we have been able to provide a hundred car seats for military mothers in the area. 
Helping Others Is An Important Part Of Our Mission
For the last 15 years in a row, we have happily donated vehicles to the American Cancer Society's Annual Car Giveaway Fundraiser. This fundraiser has generated $4.5 million since 1999!
We have also donated vehicles to the Children's Hospital of the King's Daughters for their annual car giveaway fundraiser. 100% of the proceeds from this giveaway go directly toward the children's hospital.
In addition to lending our support to all these admirable causes, we are also committed to helping less fortunate families during the holiday season, through our very own "Santa's Helpers" program.

Southern Auto Group Is Proud To Be A Part Of The Virginia Community
All of the organizations that we support have a couple of very important things in common; they make our community better and they define what it is to be Southern.
Thank you for helping the Southern family support our community.